VOLUME VIII
Jonas Basanavičius Folklore Library, Vol. 8
Tales and Legends from Ožkabaliai. Collected by Jonas Basanavičius.
Vilnius: Institute of Lithuanian Literature and Folklore, 2001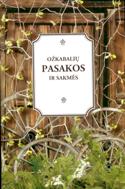 The book contains materials from the large-scale manuscript collection of folktales and legends, housed at the Lithuanian Folklore Archives and bequeathed by the funds of the Lithuanian Science Society. It is the most outstanding store of folk narrative texts recorded at the turn of the 19th–20th centuries during the folklore collection campaign organized by Jonas Basanavačius and hitherto left unpublished. The materials that it contains, along with part of the book 3 of Various Lithuanian Tales and the whole book 4, have been recorded by Vincas, Jonas' brother. Jonas Basanavičius had planned publishing books 5 and 6 of the Various Lithuanian Tales, which would have then incorporated texts from this collection as well. Yet the processes of Lithuanian social life in the beginning of the 20th century forced him to plunge into striving for Lithuanian independence, thus distancing him from folklore publication; consequently this manuscript was left unpublished.
The book consists of 280 folktales and legends, recorded in 1901–1906 (one text dates back to 1894). Almost all the materials were recorded in Ožkabaliai, the native village of the Basanavičius brothers, with the exception of over a dozen texts from the adjacent Bartninkai village. The bulk of the materials, i.e. 205 items, are folktales, while over half of them are fairytales. 63 folk belief legends reflecting the ancient beliefs are also recorded. Along with popular types of folktales and legends, quite rare samples of folklore happen to be published as well. Several texts could have been directly translated from some written sources rather than being recorded from the oral tradition.
Leonardas Sauka in his foreword to this book appreciates materials from this unjustly forgotten manuscript collection by generally stating that this publication should broaden the readers' perception of folklore that has once existed in the vicinity of Ožkabaliai and undoubtedly give many opportunities to enjoy the beauty of folk narrative.
The eight volume of Jonas Basanavičius Folklore Library was edited and the textual principles of editing discussed by Kostas Aleksynas. The author of the commentaries and compiler of index is Leonardas Sauka. The vocabulary compiled by Vitas Agurkis.