VOLUME VII
Jonas Basanavičius Folklore Library, Vol. 7
From the Life of Souls and Devils. Collected by Jonas Basanavičius.
Vilnius: Institute of Lithuanian Literature and Folklore, 1998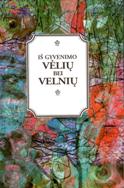 In this book, first published in 1903, Jonas Basanavičius presented an accumulation of especially rich and varied materials of oral folklore, related to the liminal state of human existence: the borderline between life and death. These include customs, beliefs, traditional images, and the otherworldly beings, the most prominent of which are souls and devils. The published materials help elucidating the irrational nature of the "otherworldly" forces that allegedly beset the human world and the ways that human encounters with them are endowed certain meaning. Basanavičius has accumulated the verbal folklore about souls and devils from different places in Lithuania; he also used published sources and manuscripts. He was assisted by a great number of people, including those that supplied materials for the earlier publications and a big number of new ones. Quite a big number of texts from Lithuania Minor were submitted by Kristupas Jurkšaitis. Yet the majority of published folklore from that region was recorded by Vilius Kalvaitis: as many as 562 texts (cf. the book contains 827 texts altogether). Therefore Kalvaitis could be reasonably considered the co-author of the book. The materials recorded in Lithuania Minor are characterized by particularly vivid regional peculiarities. Some of the narratives coming from that region could not be found elsewhere in Lithuania.
The book starts with a broad introductory study by Basanavičius "Regarding Souls and the Necrocult of the Ancient Lithuanians", which not only aims at investigating the ancient Lithuanian beliefs related to death, but also, after considering hundreds of multilingual sources, at drawing certain conclusions. In his afterword, entitled "A Remarkable Book by Jonas Basanavičius and Vilius Kalvaitis" Leonardas Sauka surveys the materials comprising this volume and appreciates it as an unparalleled source for understanding Lithuanian culture, particularly that of the Lithuania Minor, and its traditional worldview.
The seventh volume of Jonas Basanavičius Folklore Library was edited, the textual principles of editing discussed and the maps compiled by Kostas Aleksynas. The author of the afterword and commentaries, and compiler of indices is Leonardas Sauka. The vocabulary was compiled by Vitas Agurkis.