VOLUME III
Jonas Basanavičius Folklore Library, Vol. 3
Various Lithuanian Tales, book 3. Collected by Jonas Basanavičius.
Vilnius: Vaga Publishers, 1997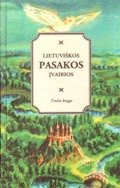 Folktales comprising the third book of the "Various Lithuanian Tales" have been recorded almost solely in the former Suvalkai Governorate. J. Basanavičius deplored in his preface that no folktales could be obtained from Dzūkija, so folk narrative tradition of this quite a big area of southern Lithuania failed to be represented in this edition. A new feature of this book is that majority of texts here have been published from manuscripts, moreover, names of the informants are indicated much more frequently, reaching as many as 50. Folktales were collected by 17 individual recorders, including a writer and public leader Stasys Matulaitis, who submitted 8 texts recorded in Liudvinavas (close to Kalvarija); the same number of texts were recorded in Pilviškiai by a poet and priest Jonas Žilinskas-Žilius. Much more folklore texts were submitted by a litterateur Kostas Stiklius. J. Basanavičius was also assisted by Lithuanians living in exile. Thus, 38 texts in this book have been recorded by Juozas Kovas (his real surname was perhaps Čepukaitis) living in USA. 18 texts were sent over from England by Pranas Eidukaitis. Still, the majority of folklore – as many as 82 pieces – published in this book was collected by J. Basanavičius' brother Vincas in their native Ožkabaliai and the surrounding villages.
All the materials in this book testify to the living and strong folk narrative traditions in Suvalkija region in the second half of the 19th – beginning of the 20th century. The stories practically are not repeated in individual repertoires of the narrators. The variant of folktale "Eglė – the Queen of Serpents" published in this book was subsequently used by Jonas Jablonskis in the process of compiling the standard text of this famous tale.
The third volume of Jonas Basanavičius Folklore Library was edited, the textual principles of editing worked out, commentaries to the texts written and the vocabulary compiled by Kostas Aleksynas. The author of the foreword to the third volume of the "Various Lithuanian Tales" and folkloristic commentaries indicating types of the published texts in Lithuanian and international indices, discussing popularity of the published materials in Lithuania and abroad and also submitting other folkloristic data, is Leonardas Sauka.